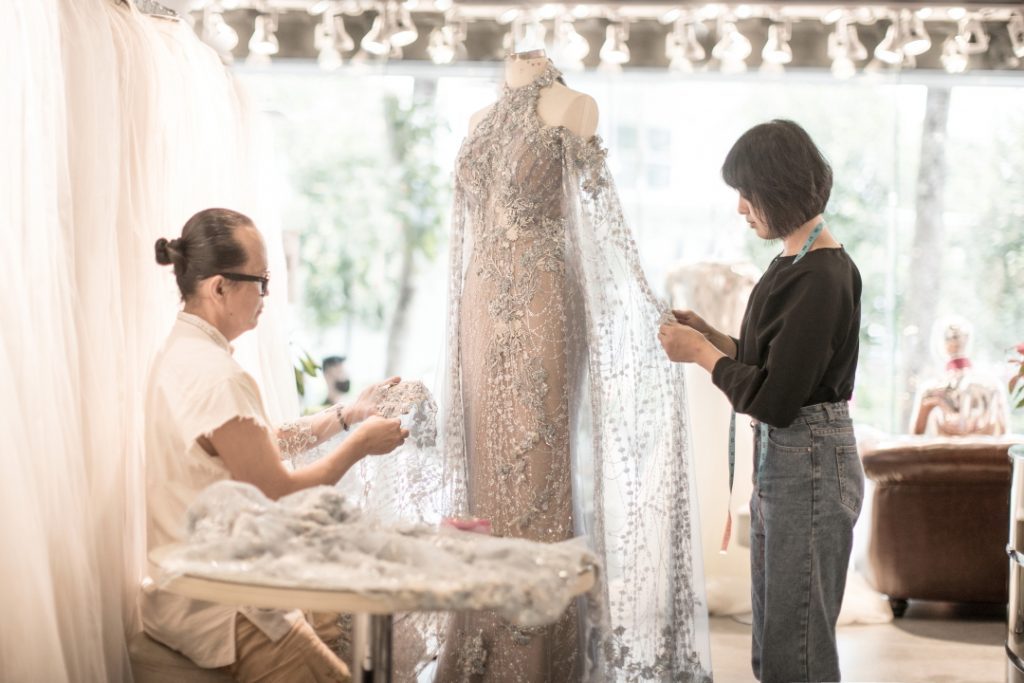 The customised option may be right for you if you've always dreamt of having a custom-made wedding dress Singapore built for you or if you can't find one anywhere else! My Bridal Room offers consultations to discuss your ideal wedding gown vision.
For today's contemporary bride, there are exquisite laces in a range of colours to match your skin tone, as well as opulent and delicate embroidery, stunning satins, crepes, and silks. Every stitch is made in our workroom above our bridal studio in Singapore by skilled bridal gown seamstresses utilising couture and hand finishing techniques from the toile to the final custom wedding dress.
We provide our brides with one-of-a-kind personalised wedding gowns. Every bride aspires to wear a bridal boutique custom-made wedding dress in Singapore. For whatever reason, having a wedding gown uniquely tailored to your taste might be alluring. The bride's specifications are considered while creating a personalised bridal gown. Having a custom-made wedding gown in Singapore is time-consuming, but the end product is well worth the effort.
Why choose My Bridal Room?
It's a delight to create wedding gowns since we know how much joy we provide to our brides. We are motivated by a desire to produce work of the highest standard and originality. We promise the brides that they may choose whatever type of gown they want, with no restrictions.
Using only the finest materials and cutting-edge techniques, we want to create stunning bridal gowns that are one-of-a-kind. Our brides should be the ones to draw attention to them. Our ladies' styles are reflected in their wedding gowns, which are made to order.
Custom-made gowns are the speciality of a seamstress. As new fashion trends emerge, there is a growing need for custom-made apparel. Our handmade wedding dresses are meant to express a fresh mood. Our goal is to create one-of-a-kind gowns for weddings that will make the brides feel beautiful and confident. To us, creating a distinctive and jaw-dropping wedding dress that offers happiness and an incredible feeling of accomplishment is what drives us.
It doesn't have to be expensive to choose a dress from My Bridal Room!
When contemplating a custom-made wedding dress in Singapore, you'll also be concerned about the expense. Until our designer has had a chance to talk to you about your thoughts and vision for your gown, it's impossible to provide a definitive response to this question. You can get a complimentary consultation so we can talk about your wedding dress one-on-one and so that you can see our selection. The price of your wedding gown is determined by the fabric, style, and decorations you choose.
My Bridal Room offers a professional custom-made Wedding Dress Singapore Service.
When you design a personalised wedding dress, you embark on a voyage of discovery. The bride and the designer must work together to develop an original design. We've drawn a rough drawing and are ready to select fabrics, ribbons, and other embellishments for the final product.
The next step is taking detailed measurements. It is possible to create a fake cloth that looks quite similar. A series of toile fittings create the final pattern. Next, the dresses are cut using their final materials, all handmade. The clothing is transformed into a work of art by us. Please contact us if you have any questions!
Galleries