Oversea Pre-wedding Photography
My Bridal Room's in-house crews of wedding photographers are here to help you conceptualise and customize your overseas pre-wedding photography at various international locations of your choice, such as Korea, Greece, London, Penang, Bali, Malaysia or Maldives. Mixing contemporary style with a relaxed and natural approach, you can trust the highly-skilled lensmen of My Bridal Room to eternalise your sweetest and most romantic moments. Striving to provide an all-encompassing wedding photography service, you can place confidence in My Bridal Room to support you in seeing your wedding dreams turn into reality. Rich in experience and committed to providing the best service, My Bridal Room is here to help you kickstart your brand new life as a married couple.
Overseas Wedding Photoshoot
The trend of engaged couples travelling to unusual sites for their wedding photo shoots, known as destination wedding photoshoots, is quickly gaining popularity. People are also becoming more imaginative in terms of the locations in which they wish to conduct their photoshoots. You will be startled to discover that some of the chosen places can't be considered unusual. Because a wedding represents one of the most important occasions in a person's life, an overseas wedding photoshoot can be a time-consuming procedure in and of itself because you will be required to take hundreds of photographs.
Our Overseas Wedding Photoshoot Service:
Pre-wedding photoshoots in Singapore might get a little stale, so why not travel to a new location to capture the most significant moments of your relationship? Even while travelling to a different country, our photographers can deliver amazing overseas wedding photoshoots for our clients. We are also avid travellers, and during your session, we can provide you with some straightforward advice and suggestions that will make you look your absolute best in your wedding images.
Our overseas wedding photographers are committed to ensuring that every couple has a unique wedding ceremony and pre-wedding photo shoot. We can record every romantic moment and provide couples with unique memories thanks to our enthusiastic, passionate, and skilled photographers. To make things even sweeter for couples, we'll supply them with all of their high-resolution wedding images at a low additional cost.
What Countries and Locations do we offer?
We can work with you to set up a photo shoot at any location and any time that works best for you. Whatever the setting, we know how to get the best pre-wedding photos possible. For your photoshoot, we'll go to great lengths to ensure that your journey and love story are captured in the best possible light. We aim to make you look your best at every instant.
Your pre-wedding photos will be gorgeous and natural, thanks to our team of highly trained and experienced photographers.
If you choose, we can include a lovely gown and a suit in your package from our extensive selection of bridal gowns.
Overseas Interior Photography:
There are various indoor venues to pick from, so you don't have to limit yourself to simply the outdoors. All the cultural attractions are available, from art galleries to historical sites to temples, if you'd prefer a more devout experience. Ofcourse, you can't just go into every building and start taking pictures. To schedule an overseas wedding photoshoot, you'll need to plan and get permission from the building's management. Consider the venue as well, and ensure that it is in keeping with your wedding's general concept.
Overseas Nature Photography:
There are a lot of beautiful locations across the world to visit and photograph. Pre-wedding photo shoots in natural settings, such as parks or gardens, are extremely popular. Consider taking your session to the mountains, farmland, or coast if you're feeling very daring.
Many couples choose to have their portraits taken in a garden because it is seen as an exceptionally sentimental setting. In a garden or a park, you have a wide variety of subjects from which to choose. As a result, you'll have a plethora of photo composition options to choose from.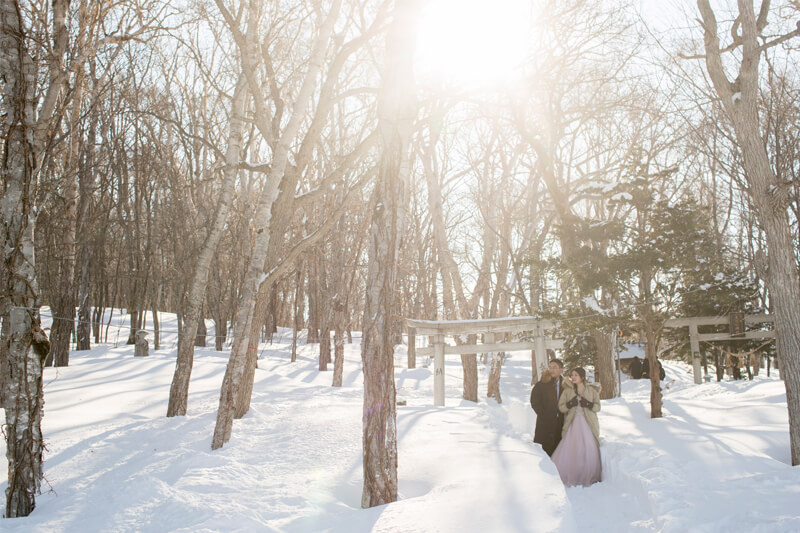 Our Overseas Photography Portfolio!