When we hear about newly-engaged couples planning for their big day, we often only think about the wedding banquet. However, in order to make your marriage legal, you need to register your marriage under the Registry of Marriage (ROM) in Singapore, and this is also an important part of your wedding planning process!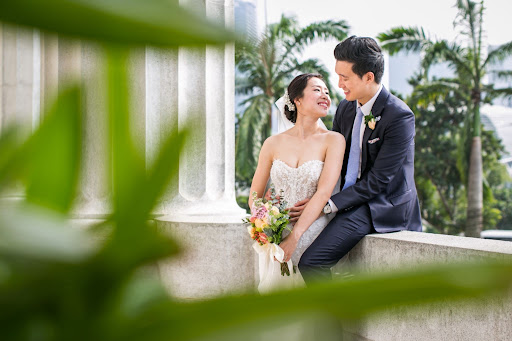 Source: My Bridal Room
Depending on individual preferences, you may wish to register your marriage on the same day as your wedding reception or choose to ROM first and host their wedding banquet at a later date. 
Whichever you choose to do, keep reading to find out everything you need to know about planning for your ROM in Singapore!
1 – Decide on the venue
When it comes to hosting the solemnization ceremony, couples have two options: either at the ROM office, or at an outside venue of their choice.
The first option is definitely the most cost-efficient and fuss-free if you prefer saying your 'I dos' in the presence of a small group of family and friends (max 8 guests, including your witnesses and your wedding vendors).
Picking the second option offers more flexibility as you can choose to hold your solemnisation at a restaurant, hotel, park, or any other preferred venue. You can also invite more family and friends!
2 – Choose a solemnizer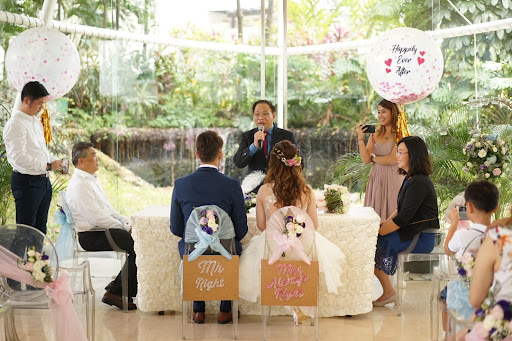 Source: My Bridal Room
Another important decision you need to make is choosing your solemnizer. As he/she will be officiating your marriage, some couples do have preferences when it comes to choosing one. For example, what language do you want your ROM to be conducted in? How serious or lighthearted would you like the ceremony to be? Different solemnizers have different styleswhen it comes to conducting the marriage ceremony, so it's a good idea to spend some time online doing your research, or getting recommendations from friends and family.
From there, you may contact the solemnizer to ask about his/her availability on your preferred ROM date, and confirm with them when you decide to engage their services.
Do remember that a solemnizer is a volunteer – and he/she is taking time out of their schedule to officiate at your wedding.  Therefore, appoint someone from your wedding party to host or take care of the solemnizer while he/she is at the ceremony to make sure he/she knows where to go. Do be punctual as to not let them wait around for too long and extend your gratitude and appreciation at the end of the event. Do remember to prepare a stipend i.e. an ang pow or a suitable gift for your solemnizer.
If you are holding your ROM at an outside venue, you must also get your solemnizer to sign a consent form, which you will need to bring for your appointment at the ROM office.
Here's a list of licensed solemnizers in Singapore for your convenience!
3 – File a Notice of Marriage online
After making the above two decisions, you can proceed to file a notice of marriage online here.
You can file your notice up to 1 year in advance or 1 month before the date at the latest.
Check out this helpful calendar tool from ROM to find out when you should file your notice of marriage.
Before filing, make sure you have these documents ready:
Credit card (CashCard or NETS only at ROM).

NRIC (for citizens and SPRs) or Passports (for foreigners) of the groom, bride and 2 witnesses above 21 years old.

Consent form signed by your solemnizer (if solemnization is taking place away from ROM).

Printed copy of the payment receipt and 'Summary of Notice of Marriage' at the end of online filing.
Make sure you double check the dates and both your names before you file. Once it's submitted, you will receive a Summary of Notice of Marriage and a proof of your successful filling. 
4 – Visit the ROM Office for verification of documents/Statutory Declaration
Once you successfully file your notice of marriage online, you will be allocated a date and time to go to the ROM office for verification of your documents and to make your statutory declaration. 
For this appointment, you and your spouse need to be present. Don't forget to bring the Summary of Notice of Marriage, your identification and a copy of both your witnesses' ICs. 
The process here is straightforward as the officer needs to verify both your identities. At the same time, both of you will recite the marriage oath in front of the officer. 
If you're having your ROM at an outside venue, you will be given a set of documents, which you will need to bring and sign on your actual day in front of the solemnizer and your witnesses.
5 – And it's your actual ROM day!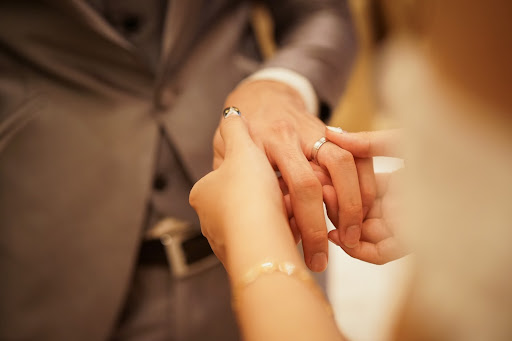 Source: My Bridal Room
And finally your big day is here! This is a momentous day as this will be the day you are legally married under Singapore law. 
Since you have made all your preparations, all you need to do is prepare yourself and look amazing on your wedding day! Bring along your ICs, wedding bands (if you have them) and of course – the set of marriage documents that you've been given. 
Happy planning!
For more free resources and helpful articles for your wedding planning, visit My Bridal Room's blog. 
My Bridal Room offers a range of Contact us for a non-obligatory quote and we're happy to assist you with your planning. 
Galleries