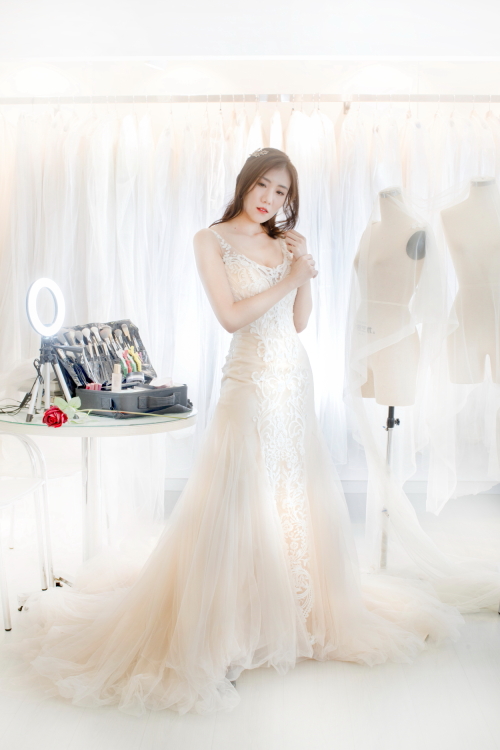 Date : 5 Febreary 2021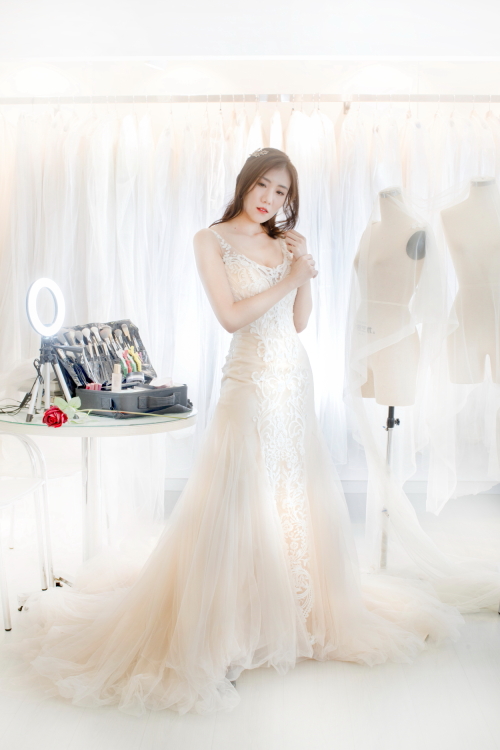 Choosing the Perfect Wedding Dress
Floating down the aisle in the dress of your dreams is the moment that many girls have wished for since they were little. However, when you actually begin planning for your wedding, you may find that finding the perfect gown can be a stressful affair – with so many styles and options to choose from, how will you ever decide?! At My Bridal Room, we thought we'd use our years of experience in gown design, and matching brides to suitable gowns, to share some tips for befuddled brides. We hope the following tips will be helpful to make this process much easier for you!
Set a Budget
Firstly, you will want to ensure you start your gown hunt right by determining a budget that you and your partner are comfortable with. This also helps to keep your wedding planning stress-free! The cost of wedding gowns can range within a wide price spectrum – beginning from a few hundred in most studios to several thousands for bespoke, made-to-measure exclusive pieces. While it is natural to want to spare no expense in getting your dream gown, keep in mind that the gown is just one item in a long list of wedding expenses (on top of other marital expenses such as housing). Having a firm sense of how much you are willing and able to fork out will help you quickly filter down to the bridal studios within your price range and subsequently, gowns that you can try on. This not only makes the process much more efficient but also spares yourself the potential dilemma of trying on a piece that you really like before realizing that the price is much higher than what you were hoping for.
Decide on a Silhouette
There are many styles of gowns, such as A-line, ballgown, trumpet, etc. Refer to the helpful chart below for some of the most popular silhouettes our brides opt for! It may seem overwhelming to suddenly be introduced to so many new terms (e.g. tulle, mermaid, sheath) in wedding gown vocabulary, but doing some research and having a basic idea of each shape will make this much less daunting. Each shape favours and accentuates different body types – identifying one or two styles that you think will complement your figure before heading down to a bridal studio will help you make the best use of your time there. If you are uncertain, think about your current favorite pieces of clothing, and what your best features are which you'd like to accentuate. Otherwise, you can always try out a few gowns at bridal studios to get a better idea of what you are comfortable with. Do keep an open mind and try out some shapes that you might not have typically considered – you may end up unexpectedly finding that another shape works really well for you!
At My Bridal Room, you can make an appointment with us for a non-obligatory visit to our studio, where you can try a few gowns to get a better sense of what suits you. Be kind to yourself in the process – you will eventually find the perfect dress!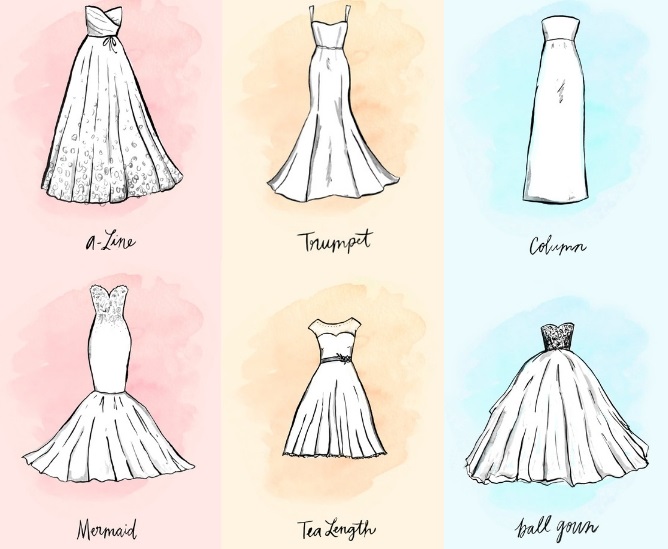 Image credit: https://www.bridalguide.com/sites/default/files/silo_glossary.jpg 
Know your Style
Your personality and style also play a large part in determining which gown will work for you. If you have always been a free spirit at heart, then it may seem a little out of the ordinary to put on a formal ballroom gown on your big day. However, you may also need to consider the decorum and other requirements of both the event theme and the venue, which could influence other elements of the gown such as the weight, material, color and length. For traditional solemnization ceremonies conducted in a church or other places of worship, you may be required to opt for a gown that is more traditional and conservative. Alternatively, if you are planning to have a garden- or beach-themed wedding or a lunch reception instead of dinner, you may want something lightweight, fun and easy to move around in.
Whether you're looking for something ethereal, or classic and minimalistic, we have a wide range of gowns which will suit a variety of styles in our studio. Just shoot us a note and we will be more than happy to help you find the perfect gown which suits all your needs!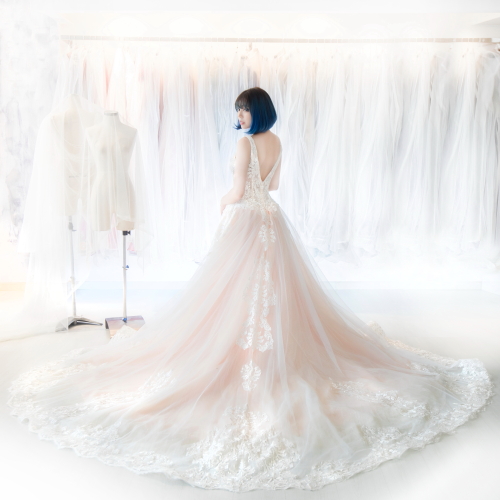 Decide If You Want Add-ons
While you're gown hunting, you will most likely be settling other aspects of your wedding at the same time, whether it's booking your actual day photographer, videographer or planning a pre-wedding shoot at the same time. Well, the good news is that you can kill three birds with one stone at My Bridal Room, as we have all-in-one packages to help brides achieve more with less effort. Our packages include hair and makeup, photography, videography and gown rental, with the option to add or remove items as you please. The best part – you'll be getting the most competitive price when you book a package! It's truly the most viable option for fuss-free and savvy brides.
Go With Your Heart
After everything has been said and done, the most important thing is still to go for a gown that makes you feel happy, comfortable and confident on your big day! Consider all the tips and advice that your family, friends or other people (including us) have given – but it is your wedding at the end of the day and you get to make the final decision. A wedding is a once in a lifetime event and you will want to be wearing a gown that you are truly comfortable in and create great memories to look back on. Depending on your requirements, you may find your ideal gown on your first day of looking around or spend many weeks or months looking around instead. Whatever the case, try to enjoy the process, and you know where to look for us if you need help with any part of wedding planning!
Galleries